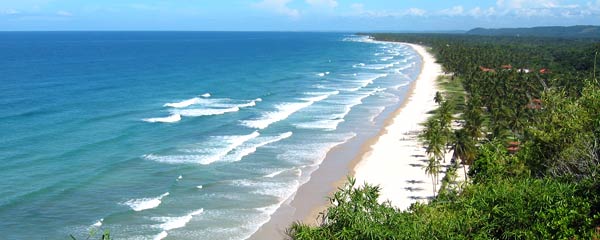 Do you want to experience the real essense of a traditional bahian community? Then Serra Grande is that place! A small quiet town located in the heart of the surrounding atlantic ecopark fronting a beautiful 22 km long sandy beach.
When Itacaré gets the movement, Serra Grande serves as the perfect get-away to escape to. Located around 32 km from the tourist Mecca, this little town offers a pure Bahian culture and one of the longest beaches on the southern coast.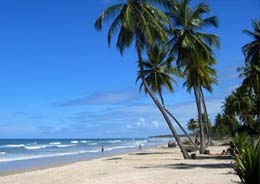 Interestingly enough Serra Grande has managed to stay as original as it gets through out the tourist-boom over the past years. It still remains a small community where people bargin at local market in the morning and in the night gather at the famous pizza-place for some traditional Forró dancing. If "character" would have a name, then it would be serra Grande.

The town is built on the top of a green hill looking over the virgin Atlantic forest and the clear blue ocean. From the viewpoint "Mirante da Serra" you can let your mind travel away to the sunsetting horison while enjoying a cold beverage at the near by restaurant.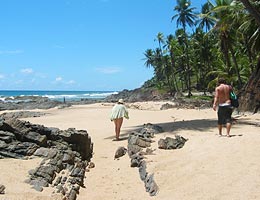 The 22 km long strip of white sand and palmtrees is there for you to enjoy without any disturbance. Spend a day infront of the sea relaxing, surfing or just promenading at - what feels like - a never ending beach.

For those tired of salt water and waves, Serra Grande offers a tranquile environment with freshwater. Close to the center of the town there is a large lake surrounded by green lawn and trees that create a feeling of a more private space. The enrance is free.

In the center of the square you will find a cute little bistro where you can have a nice cup of coffee. Take a seat, relax and enjoy the atmoshere that only a small town can offer.

Half of the fun of being in Serra Grande is to actually go there! The road that leads to the town is known as the "Atlantic vein" as it runs through the wild eco park like a pumping aorta. Regardless of what direction you are arriving from, you will have the opportunity of enjoying a drive through an untouched forest.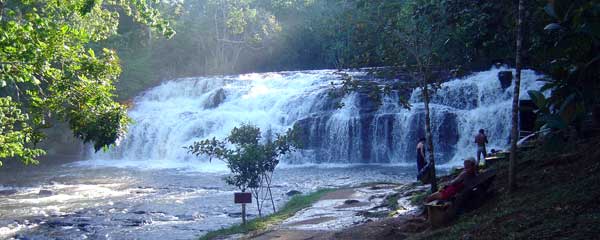 If not for the calmness of Serra Grande, then an very good reason to come here (regardless of city, country or even continent) it is the traditional snack called "Empadas". On the side of the road entering to town, you will find "Casa de Empada" where you can choose a flavour, salt or sweet, and have it baked right on the spot. If in Serra Grande aready, this is an obligatory stop.