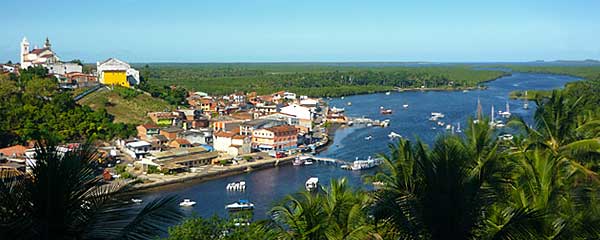 It is definately worth the while to spend a few days in this historic colonial city and experience the real essence of a southern Bahian community. Splitted in two parts, the upper part of town and the lower part of town, complete eachother like a cute old couple. Take a boatride around the bay and exprerience all its beautiful islands, one by one.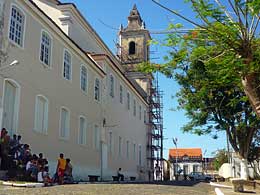 Camamu is mostly known as being a supporting point to nearby cities and islands. But truth is that it is much more than that! Give this mystical city a chance and it will give you something unexpected back that you will not regret having experienced.

The city was founded in 1561 and has been serving as the areas main connecting spot for decades having shaped its very own personality. Times have changed but Camamu has lived long enough to have more than a handfull of interesting stories to tell.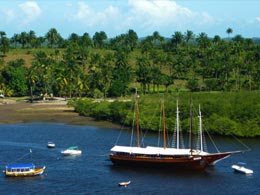 Walking through the small streets of this charmy historic town you will feel like you took a wrong turn and ended up in the 1500 century. Among all the colorful colonial buildings one can still hear the samba-tunes from the past eras in the air around. Continue down towards the port, order a cold beverage and enjoy the view over the beautiful Camamu Bay.

The Camamu Bay is made up of many small Islands, all of the offering something special. Take a boat trip to Pedra Furada, Ilha Grande and Ilha Pequena for some sunny beach-behaviour. Or experience the true and layed back island-lifestyle at one of the smaller islands around. If you go to the island of Sapinho you can't miss out on trying the "Moqueca", it will be hard to beat that one taste-wise!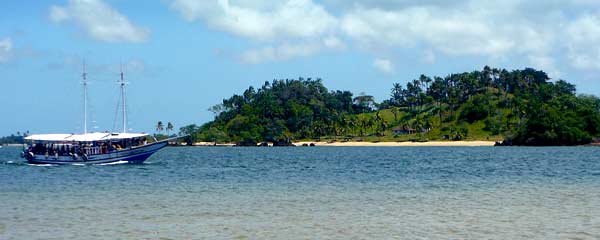 During highseason it is a good move to stay in a hotel or a pousada in Camamu where the prices are farlily lower than the other places around. Having Camamu as your base, you can then explore the islands of the bay and make a day-trip to Barra Grande or to Taipus de Fora.

While you are in Camamu though, do like the locals from the nearby cities do: shopping! Here you will find a big commerce with a wide range of products, all to a very low price.