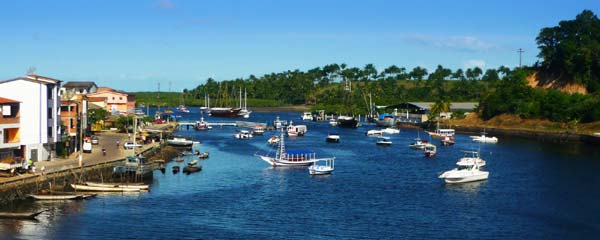 Camamu is about 327 km from the city of Salvador and 60 km from Itacaré, while the nearest airport is located in Ilhéus.

› ABOUT CAMAMU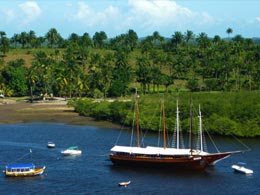 The national airport of Ilhéus (IOS) has connections with most of Brazil's major cities.

BOAT
There are daily boats coming from Barra Grande.

LAND
Follow the BR-324 and before arriving in Feira de Santana, take the BR-101 towards the south and the junction for Valença. At this point, take the BA-001 and continue straight on towards Camamu.

Another option is to take a ferry from Salvador to Bom Despacho. When you reach the island of Itaparica and Bom Despacho, follow the BA-001. You will pass by Nazaré, Valença, Taperoá, Nilo Peçanha, Ituberá and Igrapiúna before finally arriving in Camamu.

Bus transportation

Buses to Camamu are leaving from Salvador, Feira de Santana, Itabuna, Bom Despacho, Valença e Itacaré.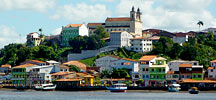 Companies like Santana (tel: +71 3450-4951), Cidade Sol and Águia Branca make daily routes to this destination. The fare is around 33 Real and the aproximate travel time is 5 hours.
Note: In Bom Despacho, the buses are available at the same location for the ferry, making travel faster and less tiring.
Coming from Ilhéus, companies like Rota (tel: +73 3251-2181) and Águia Branca have hourly buses to Itacaré that make a stop in Camamu as well. The aproximate travel time is 50 minutes.

Private car

Coming from Salvador the best option is to take the ferry to the island of Itaparica and then follow the BA-001.
Coming from the south, like Porto Seguro, Trancoso or Arraial D'Ajuda, it is best to follow the BR-367 until Eunápolis and then continue on to the BR-101 towards Itabuna. At the junction of BA-263, turn right onto Ilhéus and then take the BA-001 towards the northern beaches/Itacaré.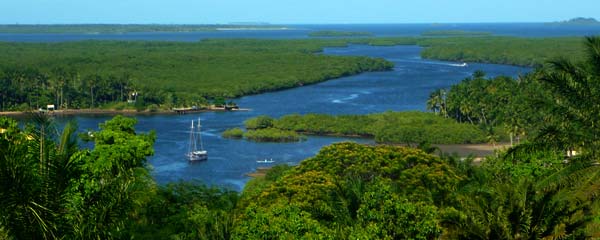 Note: In general, coming from Salvador or Ilhéus the road conditions are good and well marked, however attention must be payed due to the many curves and small communities along the road. Keep the speed reduced at all time.