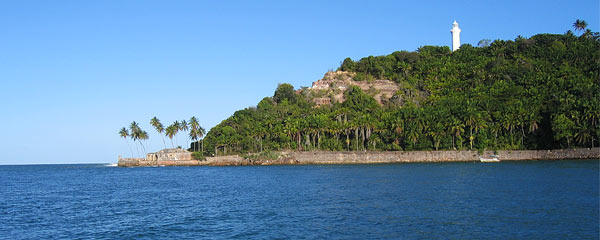 Morro de São Paulo is an island located about 45 minutes by boat from the city of Valença which is around 300 km from Salvador that also is the nearest airport.

› ABOUT MORRO DE SÃO PAULO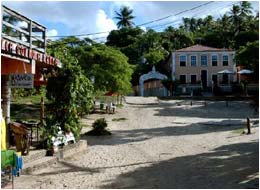 The nearest airport is located in Salvador that has connections with most of Brazil's major cities.
Smal planes (air taxis) take passengers from Salvador airport directly to Morro de São Paulo.

BOAT
The easiest way is to take a ferry or catamaran from the Mercado Modelo in Salvador to Morro de São Paulo. The ferry costs R$ 75 and the catamaran R$ 80 and they take approximately two hours. Since you are travelling on the open ocean, seasickness pills are advised. Tickets can be bought at the boat terminal building.

If one is taking the boat from Valenças port, slow ferries take about 1,5 hour and cost R$ 7,50. The faster ones take around 45 minutes and cost R$ 15.
Note: The ferry makes a stop at the port in Gamboa first, so you have to get off at the second stop that is Morro de São Paulo.

LAND
Follow the BR-324 and before arriving in Feira de Santana, turn on to BR-101 heading south until the junction for Valença. At this point, take a regular or a speed-boat to Morro de São Paulo from Valenças boat terminal.
Another option is to take a ferry boat that connects
Salvador
and Itaparica's port Bom Despacho. Disembark on the island of Itaparica and follow BA-001 passing through Nazaré until Valença.
Bus transportation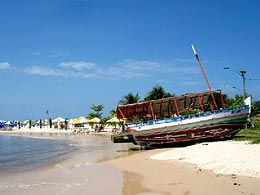 Buses to Valença are leaving from
Salvador
, Feira de Santana, Itabuna, Bom Despacho,
Camamu
and
Itacaré
.
If one is arriving from
Salvador
the best and quickest option is to take the
ferry
to the island of Itaparica and then continue by bus until to Valença.
Companies like Santana (tel: +71 3450-4951),
Cidade Sol
and
Águia Branca
make daily routes to this destination. The fare is around 26 Real and the approximate travel time is 3 hours.
Note:
The buses are available at the same location as the ferry, making travel faster and less tiring.
Coming from
Ilhéus
, companies like Rota (tel: +73 3251-2181) and Águia Branca have hourly buses to
Itacaré
that make a stop in Valença on the way. The approximate travel time is 50 minutes.
Coming from
Itacaré
buses leave in the morning and late afternoon towards Bom Despacho and pass through Valença. The trip takes around 3 hours.
Coming from Salvador the best option is to take the ferry to the island of Itaparica and its harbour Bom Despacho and then follow BA-001.
If one is arriving by car there are two options of how to arrive in Morro de São Paulo. One is to leave the car right before Valença in a parking lot called "Atracadouro" and then take the boat straight to Morro, or park the car at Valenças port.
Note: Both places charge a daily parkingfee but "Atracadouro" is the more economic option. Prices* vary between R$ 5 to R$ 10 in "Atracadouro", and between R$ 15 and R$ 30 in Valenças port.
* The fee is charged per day.

Coming from the south, like Porto Seguro, Trancoso Arraial D'Ajuda, it is best to follow BR-367 until Eunápolis and then continue on to the BR-101 towards Itabuna. At the junction of BA-263, turn right onto Ilhéus and then take the BA-001 towards the northern beaches/Itacaré.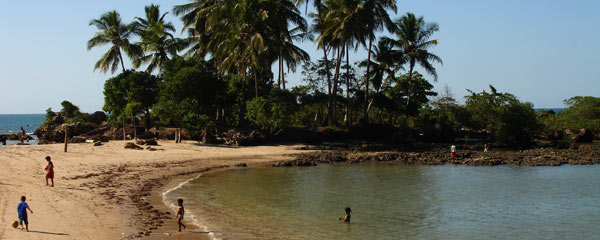 Note: In general, coming from Salvador or Ilhéus the road conditions are good and well marked, however attention must be payed due to the many curves and small communities along the road. Keep the speed reduced at all time.